Main content starts here.
JR Koumi Line Postcard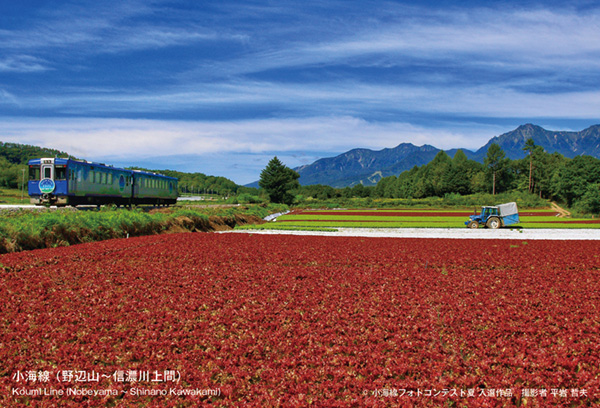 JR Koumi Line (Nobeyama ~ Shinano Kawakami)
JR Koumi Line
About the JR Line
The Koumi Line is a railway route operated by East Japan Railway Company, connecting Komoro in the Saku Region and Kobuchizawa in Hokuto City, Yamanashi Prefecture, via Nobeyama.
The Koumi Line is affectionately called Yatsugatake Highland Line, and the trains travel through magnificent scenic beauties such as Yatsugatake Mountains, Okuchichibu Mountains, Mt. Asama, and Chikuma River, as well as pastoral scenery with fields of highland vegetables and rice paddies.
The highest point (1,375m) of all JR lines is on the Koumi Line, and the 1st to the 9th highest train stations in Japan are all located on this Line, including Nobeyama Station, which is the highest.
The Photo is the winner of the Special Commemorative Award of the First Anniversary of HIGH RAIL 1375 in the summer category of 2018 Koumi Line Photo Contest. It shows HIGH RAIL 1375 traveling through the fields of highland vegetables between Nobeyama and Shinano Kawakami stations. HIGH RAIL 1375 is a sightseeing train that was produced with the concept of "the Closest Train to the Sky" so that the passengers will be able to enjoy the sky and starry nights from the train.
The Nobeyama Highland in Minami Maki Village is famous for beautiful starry skies, and has been chosen one of Japan's Best Three Places to Stargaze. JR also operates a special train for stargazing, HIGH RAIL Hoshizora. Please enjoy a train ride both day and night in the Saku Region.
Points of Interest Nearby
A Gift for You, from Saku and Karuizawa
Saku Regional Development Bureau created postcards for tourists in Karuizawa so that they will discover more about the Saku Region. There are 10 postcards, and they will be available free of charge at facilities in Karuizawa Town.
For information, please visit the "A Gift for You, from Saku and Karuizawa" page.
※Click an image to view details of the photo.